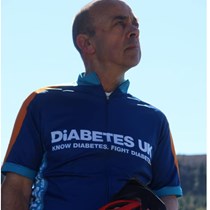 Share Alan's page with friends, family and followers:
Alan's Story
My name is Alan Wilkins. I am taking part in the UK Wide Cycle Ride to support people affected by diabetes. There are 4.8 million people living with diabetes in the UK, the complications of which lead to over 500 premature deaths every week. So, I am riding towards a healthier me, and a better future for people living with diabetes. I do not suffer from diabetes myself, but several close family members do, so I am in theory at a slightly higher r...
Activity
Journal
Trophy Room
Ready to take your fitness up a gear?
This April, make every mile count with UK Wide Cycle Ride