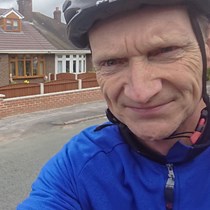 Dave
My story
I was diagnosed with Type 1 diabetes, insulin dependent, on 12th March this year g just as Covid and lockdown happened! Keeing fit since has helped me manage my blood sugar, and health. The resources and research Diabetes UK is astonishing, and has helped me to get to a better blood sugar and to avoid the dreaded 'hypos' and 'hypers' So to help I'm taking part in the UK Wide Cycle Ride to support people affected by diabetes.I'mcchallenging myself to do the full Lands End to John o Groats, needin...
Fundraising Target
£200
Raised
£235
Miles Tally
1,094.64
Team
Individual
Fundraising goal
£235 towards fundraising target of £200
Miles tally
1,094.64 miles towards a 950 mile goal
Want to take on the challenge?
1 to 30 September 2020
You cycle, in your own pace, at your own time.
Our work transforms lives.
Together we take on diabetes, one mile at a time.