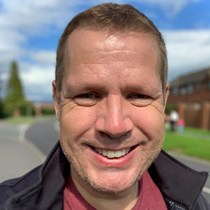 Jason King
My story
September 1st and I'm back on the bike for the first time in 3 months, and for a good reason. I'm taking part in the UK Wide Cycle Ride to support people affected by diabetes. I aim to cover 250 miles over the month, be that on the roads of Shropshire and Wales or on the Turbo Trainer if the weather is a bit grim! I'll be doing this alongside my lockdown home delivery job for Morrison's, which in its self is pretty good exercise.There are 4.8 million people living with diabetes in the UK, the co...
Fundraising Target
£120
Raised
£135
Miles Tally
300.14
Team
Individual
Fundraising goal
£135 towards fundraising target of £120
Miles tally
300.14 miles towards a 250 mile goal
Want to take on the challenge?
1 to 30 September 2020
You cycle, in your own pace, at your own time.
Our work transforms lives.
Together we take on diabetes, one mile at a time.