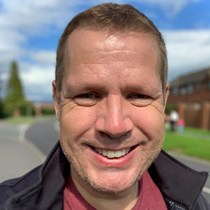 Share Jason King's page with friends, family and followers:
Jason King's Story
September 1st and I'm back on the bike for the first time in 3 months, and for a good reason. I'm taking part in the UK Wide Cycle Ride to support people affected by diabetes. I aim to cover 250 miles over the month, be that on the roads of Shropshire and Wales or on the Turbo Trainer if the weather is a bit grim! I'll be doing this alongside my lockdown home delivery job for Morrison's, which in its self is pretty good exercise. There are 4.8 mi...
Activity
Journal
Trophy Room
Recent Donations
No one has donated to Jason King yet
Ride History
No rides have been logged yet
Ready to take your fitness up a gear?
This April, make every mile count with UK Wide Cycle Ride