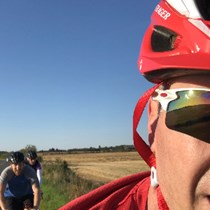 John Dibb
My story
I'm taking part in the Diabetes UK - UK Wide Cycle Ride and covering 950 miles (the equivalent of Land's End to John O'Groats) in September, to support people affected by diabetes. Please help me by donating anything you can, I'm looking to raise £1000 which would be about £1 per mile.
Fundraising Target
£1,000
Raised
£350
Miles Tally
1,058.59
Fundraising goal
£350 towards fundraising target of £1,000
Miles tally
1,058.59 miles towards a 950 mile goal
Want to take on the challenge?
1 to 30 September 2020
You cycle, in your own pace, at your own time.
Our work transforms lives.
Together we take on diabetes, one mile at a time.